Extract from Model Engineers' Workshop
As published in Model Engineers' Workshop issue 133 (Christmas 2007), we are pleased to bring you a copy of Dave Fenner's article "The C3 Mini Lathe Part 1". To reduce download time, the article has been posted in two halves.

Click here or image (right) for the First Half
(Adobe PDF File 842kb)

Click here to see the Second Half
(Adobe PDF File 847kb)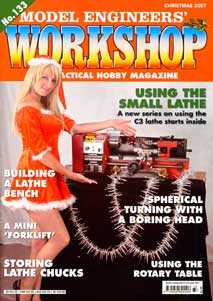 If you would like to read subsequent articles in The C3 Mini Lathe series in the digital archive, you can subscribe to the magazine by Clicking here and choose 'Print & Digital Subscription' or 'Digital Subscription' to access the archive.
Reproduced here on the Arc Euro Trade website with the kind permission of Magicalia Media, the publishers of Model Engineers' Workshop and Dave Fenner, the author. All rights reserved.
Links from other websites or copying of this article for use on other websites is not permitted.
Arc Euro Trade Ltd has taken all reasonable care to ensure that the "Projects" pages published here were accurate on the date of publication. Arc Euro Trade Ltd takes no responsibility for the consequences of error or for any loss or damage suffered by users of any of the information published on any of these pages, and such information does not form any basis of a contract with readers or users of it.

Copyright © 2014, Arc Euro Trade Ltd. All Rights Reserved.